I am

Leah Stavenhagen
living with ALS
New York
---
I have had to learn how to ask for help and how to accept it. How to live in the now and concentrate on those I'm with. How to rethink my definition of success and what I want from life.
During the spring of 2018, I began waking up in the middle of the night with leg cramps. Being 25, I joked to friends that I felt like my grandmother. I didn't think too much of it but began taking magnesium supplements. Summer came and went. I ran through the streets of Paris celebrating when France won the World Cup. I completed my summer internship and prepared for the final year of my Master's degree.
By the time Christmas came along, I had tripped and fallen a few times. I found myself being passed on the sidewalk by people I normally would have sped in front of. Something was off so I visited my doctor and explained that my situation did not make sense to me. I was an active 26-year-old so why did I feel like my feet couldn't quite keep up? She couldn't find my knee-jerk reflex and suggested that I visit a neurologist. Naively, I didn't understand why I was being referred to a neurologist over a podiatrist. This quickly changed. I learned that I likely had ALS and a 2-5 year life expectancy.
Over the next few months, I would consult specialists in Paris, New York and Ann Arbor and spend hours on the phone making appointments. Sometimes brought to tears by feelings of utter desperation. I needed answers but couldn't get them. I slowly stopped going to the gym. Yoga at home seemed safer.
Everything had changed but I wasn't ready to accept that reality. During the next five months, I traveled to New York, Germany, Switzerland, Turkey, Croatia and Northern Michigan. I attended a music festival, finished my thesis and graduated from my Master's program. I was doing my best to ignore the immense ALS raincloud that was hovering above. Between trips abroad, I stayed overnight at the hospital four times–to expedite myriad tests and complete immunoglobulin infusions. I could never fully escape the storm.
In September, I began working as a management consultant. Any fears of beginning a career in a demanding field, working entirely in a foreign language, were dwarfed by those of losing control of my body. Following orientation, I was immediately put on a project on the other side of Paris. The commute was a direct, 45-minute metro ride from my apartment but my days of using stairs were quickly coming to an end. Rather than ask for special accommodations, I would spend two hours taking three different buses both to and from the office. When I was lucky, my boyfriend would escort me on the back of his moto. As the weather got colder and my legs weaker, I swallowed my pride and told my manager that the commute was too tiring. I became an extremely loyal Uber client.
In December, about nine months after learning that I likely had ALS, I received a diagnosis to confirm the prognosis. The official diagnosis was primarily to facilitate paperwork. By then, I was beginning to feel my autonomy slip away. As Covid-19 began to force us indoors, ALS forced me to accept the use of a wheelchair. From home, I readily worked on proposals and discussed future plans with colleagues but, in the back of my head, knew that I would no longer be working by the time they came to fruition. Early summer, I took medical leave.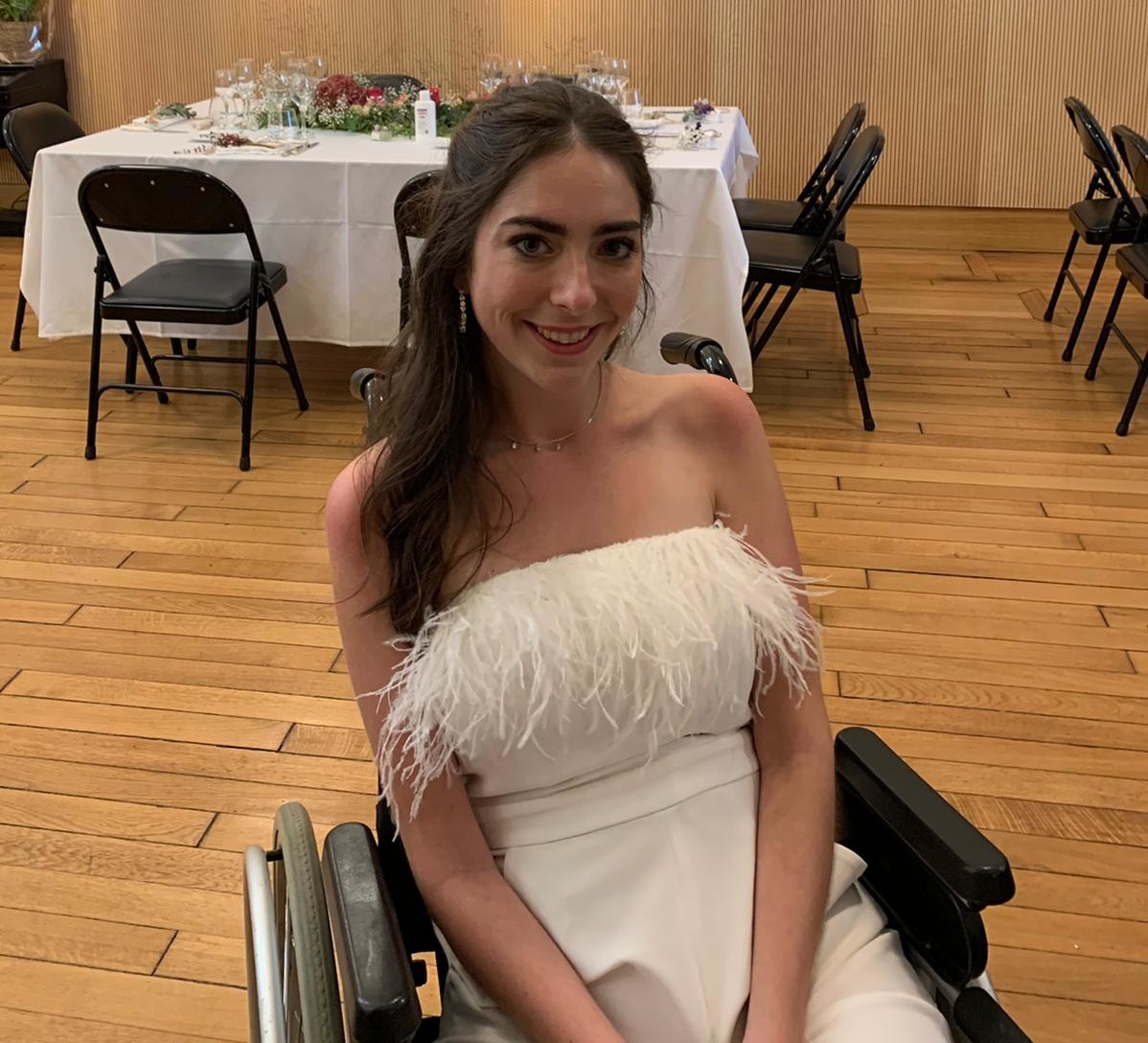 ALS is a formidable deluge, progressively taking away independence and thrusting one far from their comfort zone. I have had to learn how to ask for help and how to accept it. How to live in the now and concentrate on those I'm with. How to rethink my definition of success and what I want from life. Today, I have moved back to the States to receive a novel treatment at Columbia Medical Center and be closer to family. I have married my fiercely loyal boyfriend of 6+ years. I have never felt more loved, more fortunate and more hopeful.
Make Treatments and Cures Real
In Her ALS Shoes: Share Your ALS Story