Everything you need to know about social security disability insurance (SSDI)
---
Information to take on the go
---
If you or a loved one has recently been diagnosed with ALS, it's natural for your mind to wander to thoughts like … how is this diagnosis going to affect me financially? What about my loved ones?
Talking about money can be stressful — and it becomes even harder when you're facing the financial realities of navigating life with ALS. We've got your back. We've provided some helpful information and resources on Social Security Disability Insurance (SSDI) and Medicare benefits that could be accessible to you. 
Some questions that will be covered in this resource are …
What are Social Security Disability Insurance (SSDI) benefits?

What SSDI benefits are available to help me, and what impact will this have on my finances?

Am I eligible? And if I am, how do I get access to them? 
We've got you covered on all of these things here, but remember — feeling overwhelmed or in need of some help throughout this process is completely normal. This is HARD. We understand, and it's why we have a team ready to give you one-on-one support regarding SSDI, medicare and so much more.
What is SSDI?
Making sense of this program and how it can help you on your ALS journey can be tricky, so let's break it down: Social Security Disability Insurance, or SSDI, is a federal support program created for the sole purpose of providing financial assistance to people with disabilities. How this works is individuals who are unable to work for a year or more because of a qualifying disability get paid monthly benefits. This benefit can extend to certain members of their family as well. 
A bit of history: SSDI falls under the umbrella of the 1935 Social Security Act, and was amended in 1960 by President Eisenhower to provide coverage to disabled persons of any age. Up to 8.5 million Americans draw benefits from SSDI per year – including those living with ALS.
The question you may be wondering: Do I qualify?
In most cases, the person requesting benefits must have previously worked in a job covered by Social Security.

Ultimately, this process is determined through a "

credit system"

. Think of it like the rewards points you might earn at a store based on the amount of money you spend there over your lifetime as a shopper. Credits are earned by tracking the number of years you have worked and how much money you made. Even though the amount of work needed to earn a credit changes a little from year to year, 4 credits is always the most you can earn in 12 months. For example, in 2021, a person gets one credit for every $1,470 earned in wages or self-employment income. When they earn $5,880, the maximum four credits per year is accomplished.

Typically, at least half of your total credits earned need to be from work within the last 10 years.The last year of earning credits needs to be the year before you or a loved one was diagnosed with a disability.

What does this mean for you? Check out the helpful chart below to compare work history with the credits needed to qualify: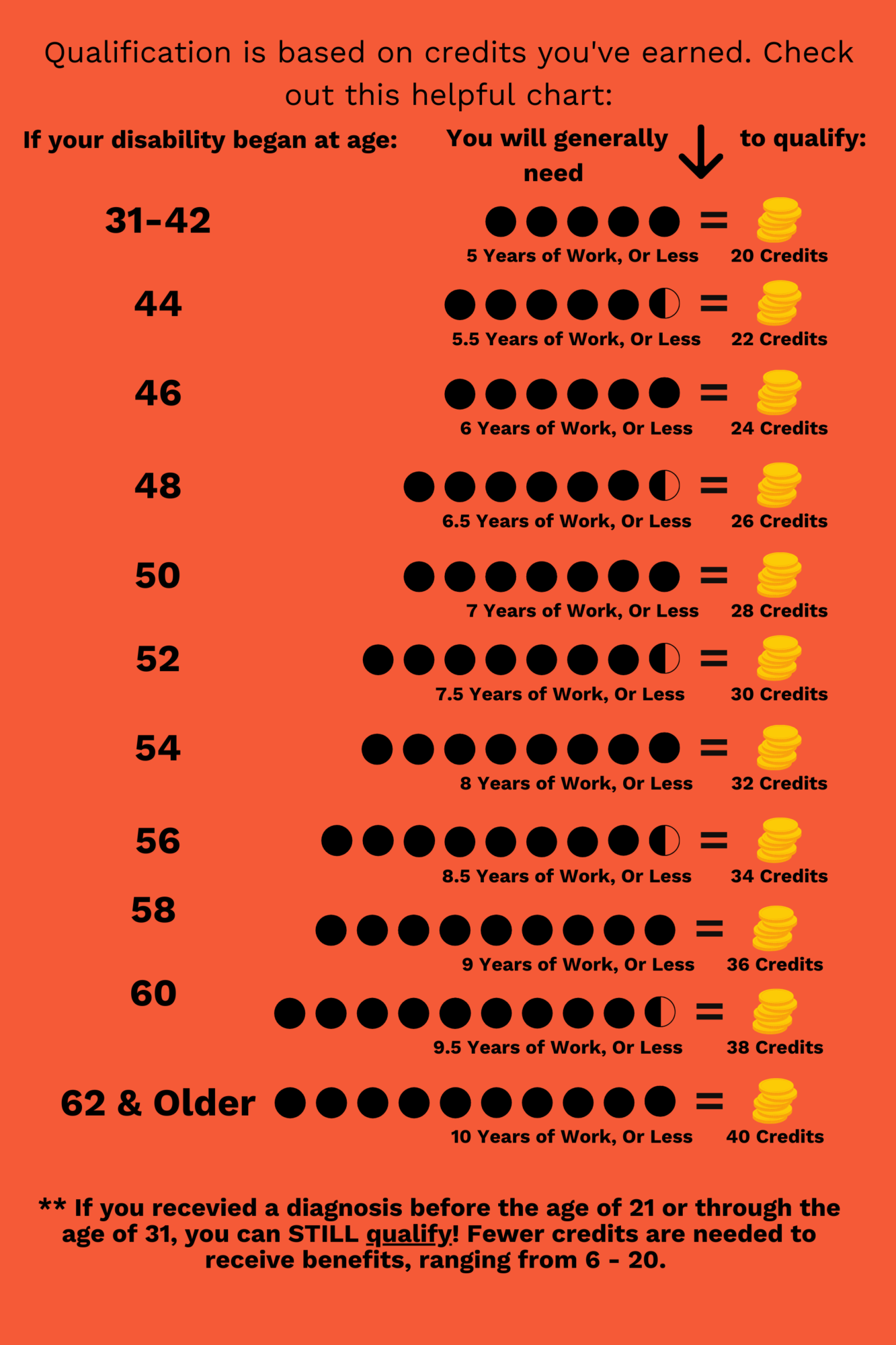 ALS doesn't discriminate — we know it can impact anyone, including young people who have only been working for a few years. The good news is, younger workers may qualify with fewer credits. If you became disabled before the age of 21 or through the age of 31, you need less years of work, and fewer credits ranging from 6 to 20, to qualify for benefits. There are

special resources available

to you to calculate your specific credit needs.

The person requesting benefits must have a

medical condition that is defined as a disability

by Social Security. 

ALS is a qualifying disability, and people with ALS can access disability benefits without having to wait five months like most other diseases. This is a result of advocates impacted by ALS coming together to work with Congress and ensure financial dignity for ALS as part of the "

Compassionate Allowances.

" Can we get a heck yeah for the ALS community driving change?!   
So, if these requirements are met, what kind of impact will these benefits have on my finances? 
Great question! You can expect an average of the salary earned over total working years to determine the value of each monthly payment. Benefits provided through SSDI support can range from $800 and $1,800 per month. The Social Security Administration (SSA) website offers a helpful calculator if you would like to estimate your potential benefits. 
SSDI benefits also can benefit your loved ones. Financial support may be available to your spouse, ex-spouse, child or disabled child. Each family member could receive up to 50% of your benefits. If you are a spouse or ex-spouse and would like to apply for benefits, please visit the SSA's Form SSA-2 page. 
Do I have to apply separately for Medicare? 
No! Though Medicare and SSDI are two separate forms of financial support, the qualification process is shared. Therefore, if you apply for SSDI and are accepted, you also will qualify for Medicare benefits. Score one finally for efficiency!
What's the Difference Between SSDI & Medicare? 
SSDI benefits provide you with a monthly financial stipend, while Medicare benefits will help you pay for medical care and equipment. Most people qualify for premium-free Part A Medicare benefits, which covers inpatient care at a hospital, skilled nursing facility care, nursing home care, hospice care and home health care. There are different types of Medicare plans, and we highly recommend reviewing this page from our friends at Your ALS Guide on Medicare details. If you need support as you look through this information, never hesitate to reach out to us.
If you think you qualify, this step is for you — How do I apply to receive benefits?
Here are some ways that you can apply for SSDI benefits:
BONUS: A disability starter kit can be helpful to prepare you for the specific documents and the information that will be requested from you during the application process.
If I'm Approved, When Can I Expect Benefits to Kick-In?
We know that the waiting game can be stressful … especially when the bills are due. Thanks to that patient-led advocacy work we talked about earlier passing the ALS Disability Insurance Access Act (S. 578), once an application is approved, your first Social Security benefit will be paid for the next full month after the date that a disability began. People with ALS now receive high priority for SSDI and Medicare benefits. 
I don't have the required work history. What now? 
When a person who does not have the required work history becomes disabled, it can pose a challenge to meet the qualifying factors needed for SSDI benefits because of the inability to provide the necessary employment history but we can still help. 
We've done the research to highlight some loopholes. First, if homemaking occured for only a short period before becoming disabled, and a consistent work history prior can be provided, eligibility for SSDI is still possible.
Additionally, if a spouse or ex-spouse has passed away, and you are at least 50 years old or you have children under the age of 16, you may be able to use your spouse's work history to qualify for SSDI disability payments. 
If either of these situations above do not apply to you, and you do not have enough work history to be approved for SSDI, you can still apply for Supplemental Security Income (SSI). SSI is not based on your work history, but simply financial need and your disability.
We know that making sense of government support programs can often be a daunting task at first glance, but we hope this resource provided a good starting point for the creation of your own ALS financial management plan. 
We'll leave you with this — ALS is relentless but so are you.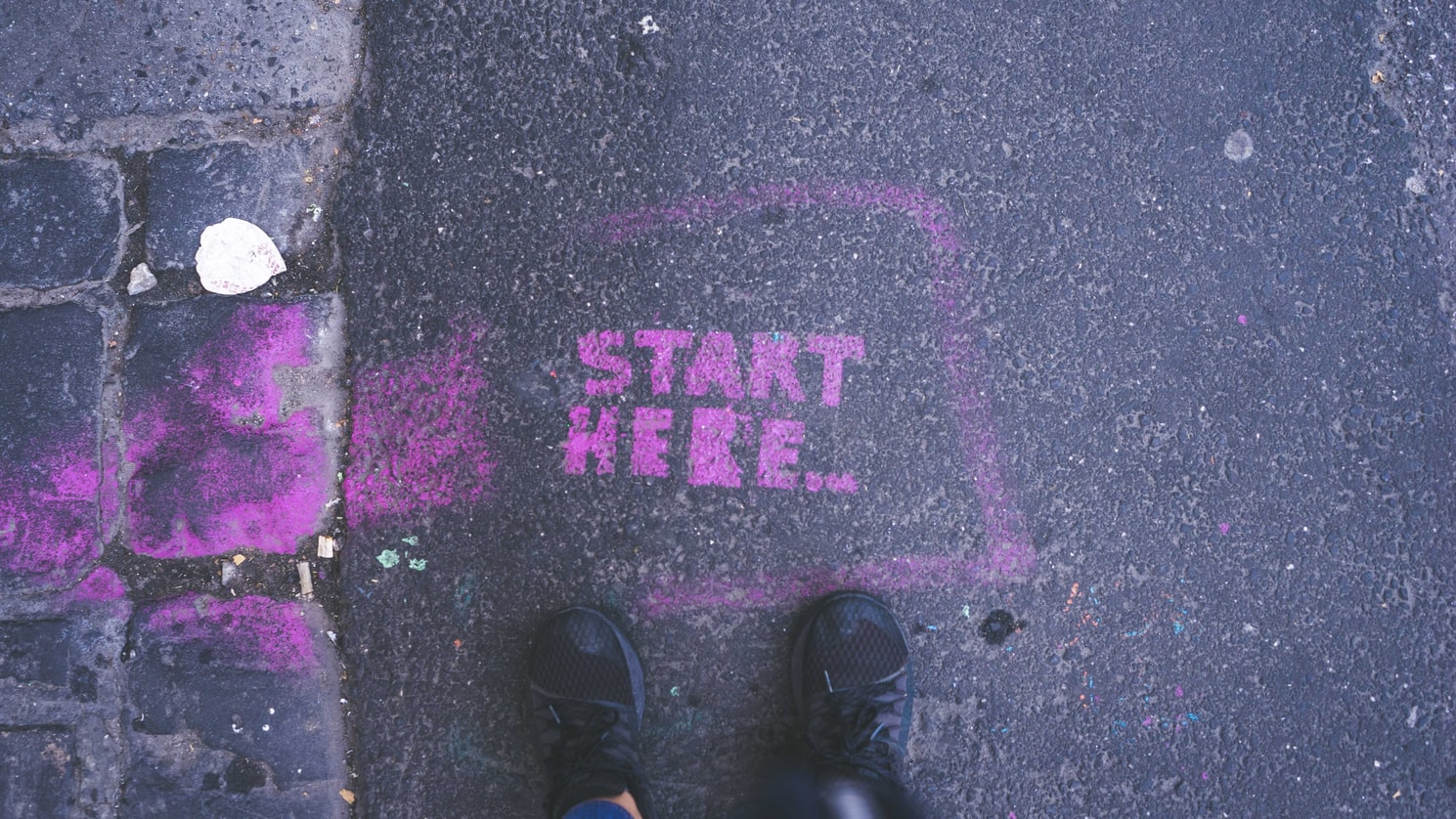 We're here to help every step of the way
Connect with an I AM ALS Navigator today
Have questions? Call us at 866.942.6257 between 9 a.m. - 5 p.m. or email us