Give For Lou
---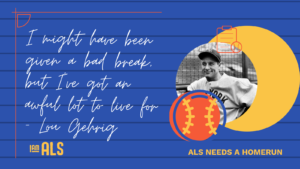 On June 2nd, Major League Baseball will honor Lou Gehrig, the greatest first baseman of all time, with an inaugural Lou Gehrig Day.
Lou retired from baseball too soon. He was diagnosed with a fatal disease, ALS, now commonly known as "Lou Gehrig's disease." ALS took his life just two years after he retired.
Today, 80+ years later, ALS still remains fatal. People diagnosed with ALS are typically given no more than 5 years to live. But, this won't be true for long.
An ALS revolution is happening. We are closer than ever before to finding treatments and cures for ALS. Join this revolution and invest in a movement that will end a disease that has taken far too many far too soon. 
In honor of Lou and his legendary #4 jersey, give an amount that includes the number 4!