Veterans Affairs Team
---
When: Mondays 3pm – 4pm ET
Co-Chairs: Gill Garcia (living with ALS), Lara Garey (wife/caregiver to a veteran with ALS) and Mandi Bailey (stepdaughter of a veteran with ALS)
Mission Statement: To raise awareness for veteran-specific ALS issues and connect veterans with resources to improve their quality of ALS care.
What do we do:
Team members use our voices to network with veteran-centered organizations and services to identify unique needs and concerns of the veteran community. This includes working with other I AM ALS teams to facilitate legislative action. 
Goals: 
Educate and empower veterans with ALS and their loved ones on navigating the healthcare system.

Raise awareness of the prevalence of ALS among veterans.

Support policy that improves the lives of veterans with ALS and their loved ones by providing them with resources, increasing funding for ALS research and/or providing easier access to clinical trials.
Accomplishments: 
Developed a directory of resources for veterans with ALS and their caregivers.

Alongside the I AM ALS staff, helped develop the "Understanding Your Risks" and "Understanding and Navigating the VA" resources. (See

https://iamals.org/veterans/

)
What are we working on:  
Developing ongoing collaborative relationships with veteran-centric organizations.

Creating an outreach strategy to raise awareness about the prevalence of ALS among veterans.

Working with the I AM ALS legislative team on ALS-related legislation.

Conducting a survey of veterans' and their caregivers' experiences to provide constructive feedback to the Veterans Affairs Hospital's executive committee on ALS. If you are a veteran or veteran's caregiver and receive care at the VA, fill out their survey!
Co-Chairs
Co-Scribe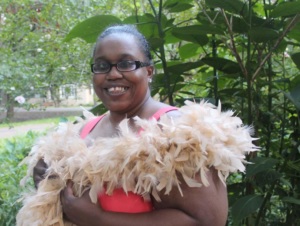 Katrina Byrd
a loved one of someone we've lost to ALS, ALS advocate
Team Members