Beauty in Disability by Mayuri Saxena
---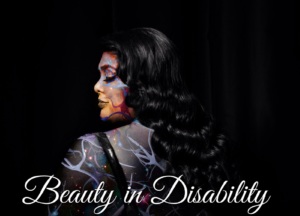 Join I AM ALS as we host the talented activist and artist Mayuri Saxena for a virtual exhibit and discussion of her work. She is generously donating the proceeds of the event to I AM ALS.
When Saxena was younger, years before she faced the unexpected challenges of ALS, she struggled with a sagging self-esteem, which she attributed to a range of issues, including generous, gorgeous curves. Suddenly not one bit of that mattered. The curveball that is the progressive, debilitating disease ALS brought on a newfound strength that bolstered her sense of self. In the art exhibit Beauty in Disability, Saxena shows how she now finds beauty in herself in a way that never would have been possible when she was uber-focused on perceived flaws. Join us as Saxena challenges dominant notions of beauty and ability in this playful and inviting series.
Beauty in Disability by Mayuri Saxena takes place on Thursday January 14, 2020 at 7 p.m. EST. Fill out the form to get the invite!