Jeffrey Fleming
---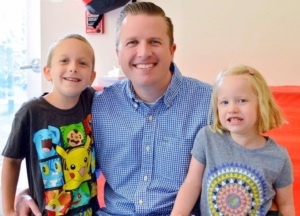 Jeff Fleming was diagnosed with ALS in December 2018. Since his diagnosis, Jeff has slowly lost functionality of his legs and arms and has almost completely lost his ability to speak. Jeff relies on his power wheelchair and speech software to help him continue to get around and have conversations with his friends and family. In spite of this, Jeff has not lost his fighting spirit, sense of humor or hope there will someday be a cure for this disease.
Jeff, a graduate of Youngstown State, and his wife Stacie, a graduate of Ohio University, joined KPMG's Audit practice in 2003 and 2002 respectively. While at KPMG, they served clients such as Battelle Memorial Institute, Nationwide Insurance and Ohio National. They became KPMG alumni in 2007 and 2008 respectively and have worked for such companies as Abercrombie & Fitch, The Limited, DSW, Experis, Commercial Vehicle Group, and Tosoh.  Jeff and Stacie have two children, Jack and Caroline.  Jeff is an avid OSU football fan and with the support of his family, friends and Buckeye Nation, Jeff is fighting to find a cure for ALS.  We hope you can help him in this journey by making a donation to I AM ALS.
Every dollar raised through this page will go directly to ALS research. Every dollar. At I AM ALS, we dream of changing the world. Not in twenty years. As. Soon. As. Possible. You have the power to make this dream real.
You in?