Flex On ALS
---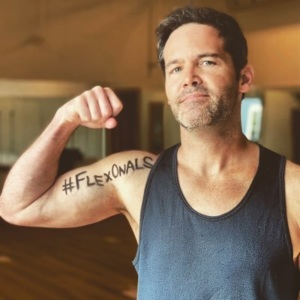 ALS is relentless. And so are we. Together with the strength of an entire movement we will #FlexOnALS and put an end to it once and for all. Give today to help make that real.
We've teamed up with Scott Smith, founder of Flex on ALS, who is living with ALS and an incredible advocate, to raise funds that will help grow this movement for treatments and cures for this brutal disease. Scott used to be a personal trainer and because ALS is a muscle-wasting disease it was especially devastating to him. He started #FlexOnALS to flex for those who are no longer able and to spread much-needed awareness.
Here's how you can participate:
Write #FlexOnALS on a body part (Or add the hashtag later)
Flex, take picture and post to social media with #FlexOnALS (here's our Co-Founder Brian Wallach's #FlexOnALS)
Challenge and tag 3 friends to #FlexOnALS
Make a donation to I AM ALS
Let's do this.