Build a page to fund research and support services
---
Thank you for your interest in giving the gift of hope by raising funds to support the work of I AM ALS. Your support means this movement can continue changing history for those currently impacted by ALS and for generations to come!
You have chosen to fundraise for Research and Support. Giving to research and support enables I AM ALS to revolutionize the research system and offer our community support initiatives to improve access to care and quality of life for those impacted by ALS.
Below is a guide on how you can create your own customizable page to share with your network.
How to create and manage your fundraising page
On the right of this page is the sign-up form. Once you've completed this form and clicked the "Submit " button, you'll be taken to your Fundraising Dashboard. This screen will allow you to edit your message and goal. (See screenshot below.) Select the edit button in each section to customize your page. It also allows you to upload an image to personalize.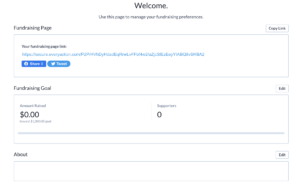 The Dashboard also contains your fundraiser's unique link that you can share via social media or directly to your network.
Once you save your page, the unique URL will update with your customized information and will immediately be available for use. You also will receive an email with the link to get back in and edit if needed. Happy fundraising!